ABOUT US
The Living Sage's Plastic Surgery Network was created with the patient's needs in mind. As the one-and-only network of its kind, The Living Sage's Plastic Surgery Network allows leading industry experts and professionals to not only share their own exclusive generated content, but also develop an open dialogue to answer specific questions from potential patients. The Living Sage's Plastic Surgery Network prescreens all content to ensure the information is coming from credible licensed physicians and sources. Securing a role as an authority proprietor in the aesthetic space is a highly-coveted title solidifying practice visibility as patients can fluently search through various guides and media.
The Living Sage's Plastic Surgery Network affords all participants an optimal experience with limitless ability to navigate efficiently throughout the site.
Advantages Include:
Understanding the benefits and/or process of various plastic surgery procedures and non-surgical treatment options
Comprehension of distinct methods and cutting-edge techniques used by expert surgeons
Find out about the latest advanced, high-tech medical and cosmetic innovations
Watch exclusive videos released by physicians, experts and/or highly trained and skilled technicians
Read about top surgeons in the media
Matchless information & data
Before & After transformations
Discover The Virtual Body: From consultation to reveal
Recognizing if you are an ideal candidate
Develop and build trust with top-level industry specialists
Realistic expectations and results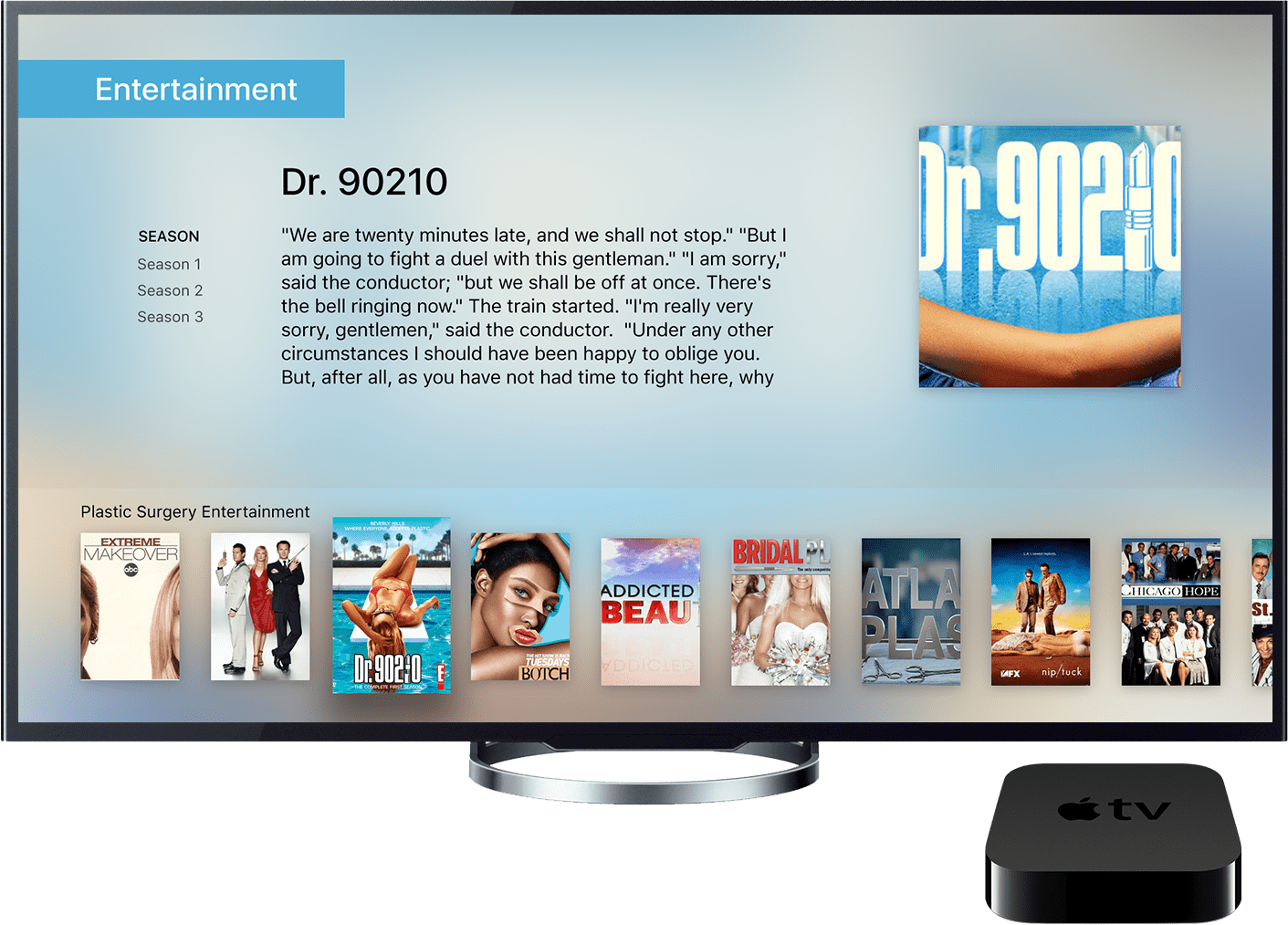 APPLE TV APP
Some digital platforms produce an overwhelming amount of active visitors and users, however, The Living Sage's Plastic Surgery Network is the one-and-only of its kind, offering exclusive access into over 25 million homes directly through its Apple TV channel. With an easy-to-use interface, potential patients have a brand new avenue for exploring expert information and media produced through The Living Sage's Plastic Surgery Network. Surgeons, physicians and specialists can stream their content on both forums for an extremely patient-centric experience. This is an opportunity to expand community reach by virtue of technology and the unsurpassed level of content sought out by clients, patients, and even other contributing organizations in the industry.